Our destinations
ITALY
Naples
Naples
, City of Contrasts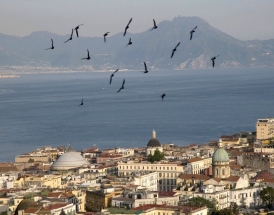 See Naples in pictures taken by Ferrante Ferranti
A true open-air theatre, Naples is filled with boisterous, winding streets that are a treasure trove of historical, artistic, and architectural surprises.

Naples is bursting with colours and juxtapositions, such as the enormous, lavish baroque palaces and churches that pop up in middle-class neighbourhoods. Or even the locals' dramatic body language and expressions, straight out of the Commedia dell'Arte, that are both joyous and melancholic. Naples is also a city with its own culinary traditions, where pizza has become an institution, where you'll find seafood dishes by the hundred, and where pastries—like baba, pastiera, or sfogliatella—taste as amazing as they sound. Nicknamed the sunshine city, Naples is the ideal starting point for excursions to islands like Ischia, Procida, and its pearl, Capri, in the Bay of Naples; for visits to the ruins of Pompeii or Herculanum; for hikes to the summit of Mount Vesuvius; or simply for daytrips around the Amalfi Coast.
2 apartment(s) found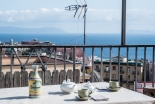 Floor area :

80 m2

Rooms :

3

Daily rates starting at :

100.00€
Learn more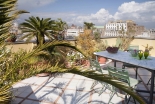 Floor area :

69 m2

Rooms :

2

Daily rates starting at :

95.00€
Characteristics :
The magnificent balcony off of this spacious apartment affords a panoramic view of Naples' historic centre and the Certosa di San Martino hill.
Learn more