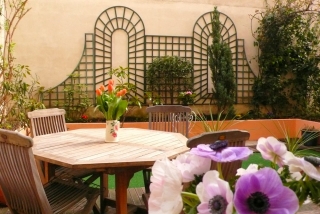 Apartment type : 2 rooms / Sleeps : 2/3 pers. / Floor area : 41 m2
Construction type : Recent
Neighbourhood : Grenelle
Availability : Year-round


Send to a friend
The apartment is situated in the 15th arrondissement in Grenelle—a bustling area known for its shops—with the Seine to the west and the Champ de Mars to the north.

Formerly a vast farming plain on the edge of Paris, it became a commercial and industrial area in the early 19th century. With its factories, port, town council, theatre, and church (Saint-Jean-Baptiste), Beaugrenelle was an independent village at the time and despite being annexed to Paris in 1860, it still retains a village—almost provincial—feel.

The area overflows with restaurants, cafés, clothing shops, and delicatessens. There is also a large farmer's market that takes place twice a week on Boulevard de Grenelle.

The apartment itself is on Rue Tiphaine, which runs perpendicular to Rue du Commerce. The apartment is only a two-minute walk from the Motte-Piquet Grenelle Métro station, where you will find a bus stop and three Métro lines, making it a breeze to get around.
The apartment
This ground-floor, two-room apartment (41 m²) is very comfortable and tastefully decorated. The quiet, open-concept living room opens onto a private yard (42 m²).

The apartment features a small entrance (2.5 m²) that connects the various rooms.
The living room (18.5 m² - southwest facing) is decorated in light grey tones and has a window and glass door on the garden side that fill the room with light. The room is furnished with a sofa-bed, a coffee table, and two armchairs. The dining area has a table and four chairs. Bookcases and a desk complete the room.

The kitchen (3.5 m²) is equipped with all the cooking and eating utensils you'll need, four stove elements, an oven, a micro-waves, a fridge and a freezer. There are no windows, and the kitchen adjoins the living room through a sliding door.

In the bedroom (11 m² - northeast facing), there are two single beds that have been pushed together, two bedside tables with lamps, and a large wardrobe. The bedroom window looks out onto the quiet Rue Tiphaine.

The bathroom (4.5 m²) is fitted with a built-in bathtub, a sink, and a tumble dryer. The bathroom window also looks out onto Rue Tiphaine.

The toilet is in a separate room (0.8 m²).

The private yard (42 m² - southwest facing) is accessed via the living room. It is entirely closed off and has complete privacy (not overlooked). A wooden table and three chairs make it an idyllic place to enjoy meals when weather permits.
Sleeping details
2 single beds pushed together (80 x 200 cm each)
1 single sofa-bed (180 x 120 cm)
Notes
The bedroom can be a little bit noisy
The bedroom can be a little bit noisy
Elevator

NO

Air conditioning

NO

Heating

YES

Fan

NO
Washing machine

YES

In the bathroom

Gas stove

NO

Oven

YES

Cookware

YES

Dishwasher

NO

Freezer

YES

Electric stove top burners

YES

Microwave

NO

Refrigerator

YES
TV

YES

Radio

NO

Iron

NO

Internet

YES

Wifi

Stereo/CD player

NO

Ironing board

YES

Phone

NO